As I was doing my morning routine aka easing my way into the work day aka procrastinating because it's Friday, I came across this link-up from The Good Life blog about naming 5 things you love/want/need/want to share this week and decided to join the party!

I am SOOOOO happy it's almost the weekend!

We have a birthday party for my husband's grandma tomorrow and then on Sunday we are having some friends over to grill out so it should be a great weekend with family and friends.

Now, without further ado, here are my 5: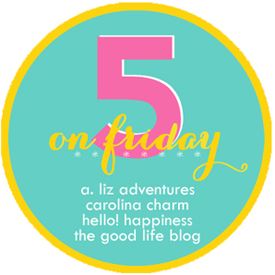 1)

On Wednesday night we had Kamden's pictures taken and I cannot wait to get them back!

He looked so cute and so big I can't stand it!

We went to a studio about 30 minutes away and he fell asleep on our way there.

When we got there and he woke up, he wasn't really sure about things and cried immediately.

I was a little worried that it would make it difficult to get pictures but he quickly snapped out of it and was smiley, giggly, and very alert for his photo shoot.

Then after the crying stopped, he spit up my husband's shirt so that was awesome.

Luckily most of it came off and wasn't noticeable in the pics.

We did a few family shots, and then the rest were of our sweet boy.

Here is a sneak peak -

I will hopefully have the rest to look at in a couple weeks:
I wish I would have noticed his collar was like that!!! Either way, I just love this picture!
2)

Keena and I stuck to our plan this week to work out at 5am on Monday, Wednesday, and Friday.

We are basically rockstars.

This morning, in spite of me staying up until midnight last night and having a couple glasses bottle of wine, I was still up at 5am ready to go.

It feels so great to have my work out done for the day before I would even be getting up for work normally.

Now I can come home after work and spend more time with KB before he goes to bed.

Hopefully we keep this up throughout the summer!
3)

Speaking of Keena, her bachelorette party is in 2 WEEKS!!!

I am so excited to spend a night away with the girls to relax in the sun, play at the water park, and go out for a night on the town.

We are going to Wisconsin Dells and staying at Mt. Olympus.

I have never stayed there but it looks pretty amazing.

I can hear my inner child squirming with excitement. :)
4)

I am currently obsessed with the song "Blurred Lines" by Robin Thicke featuring T.I. and Pherrell.

First off, Robin Thicke is fiiiiiiiiiiine.

Second off (does that even make sense?), Pherrell has been out of the scene for a while and is back.

Thank God!

I used to listen to Pherrell all the time in college.

This song makes me think I am vacationing somewhere in the sun and on a beach.

So I named it the "Song of the Summer."

I already downloaded it from iTunes and Kamden and I had a dance party while I got ready this morning.

Try not to dance when you hear it.

Even KB was bouncing around and "singing" along with it.

Now, go Youtube this shiz!!!
5)

I am seriously loving this season of the Real Housewives of the OC.

Drama, drama, and more drama!

I love that it's on Monday nights because it gives me something to look forward to on the crap day of Monday.

Even my husband will watch it with me.

I am sure he is more interested in the pretty ladies, but I will take it!!

All I have to say is, Vicki is CRAZY!

The only sane thing she said last week was that they should whoop it up in Mexico and not be lame!

Other than that, all those guys she was with in her past and the way she has been acting aka trying to attract attention…YIKES!

That girl cray.
Welp, that's all I have.

Now this work day needs to giddy up!!