S.H.I.T.....so happy it's Thursday! :) That was courtesy of my co-worker. But for real, I am happy it's Thursday because that means one more day of work this week until 2 days of freedom. I said out loud to myself on the way to work today, "please be nice to me Thursday...please." As always, I am really looking forward to the weekend. Anyway, on to the "Finish the Sentence Link-Up" with
Jake
and
Holly
!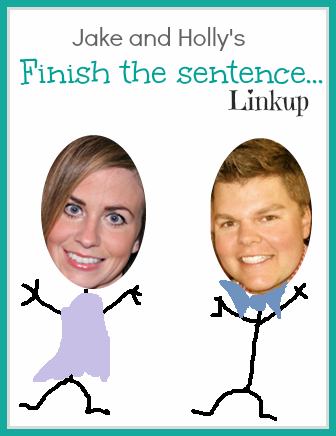 If I had one extra hour in the day...I would take a nap.

Seriously.



I wish my name...didn't make the people I work with think I am a guy before they meet me or talk to me on the phone.

I have been at my job almost 2 years and I still get replies to my emails saying "thank you sir."

I even changed the color of my signature line to purple and then to pink to hopefully make them think I am a girl.

Also, there has been numerous times where I have gotten mail addressed to "Mr. Devon ______."

I think anything chevron is...fun.

I don't own one piece of anything chevron but I think others look great wearing it! ;)
My last nightmare…happened last night.

I was pregnant with twins.

They were boy and girl twins, which if it really happened, would be what I prefer.

Especially since girl twins just remind me of The Shining (red rum).

That is pretty much all I remember other than the look of sheer horror on Bud's face when I told him (in my dream).
Sometimes...I wish I could go back in time and relive certain memories.
My last meal on earth would be...winner winner buffalo wing, pizza, Cuban sandwich, ice cream, wine, fries, and mashed potatoes and gravy dinner.

Calories don't count when you are about to die….unless I am going to Hell.

Then they would probably triple count.



I would much rather be on a lake up North than working, duh.
Mayonnaise...is really good when mixed with my favorite condiment on the entire planet, ketchup.

You can't go wrong pairing that delicacy with some French fries and a coca-cola.

MMMMMMM
10 years ago, I didn't think...I would be married, with a kid, and living in Wisconsin.

I really thought I would be a famous actress, rich (obviously), and living in California.

Pretty happy my 10 year plan didn't turn out.
J
Selfishly...I wish I could take a week off work, no kid, and just clean and get stuff done around our house.

Mom guilt would take over because I should just keep KB home with me but then I would get nothing done.
My favorite show on TV right now...is Real Housewives of the OC.

I can't get enough.

I have watched it from day 1 and I still love it.

Vicky is crazy, Tamara is a bish, Lydia is a wanna-be hippie, I am coming around to Alexis this season, and Gretchen goes back and forth from being cool to being an idiot.

Drama!
And, George Zimmerman...is the new OJ Simpson.