January so far has been pretty good for me when it comes to working out.

I have exercised about 4-5 days per week, and am feeling pretty good in that area of my life.

Eating, well that's a whole other story.

Eating is always my downfall because I love food, and think I can eat like a 17 year old boy and not gain weight.

WRONG!!

I cannot do that.

Maybe I could at one point in my life (not really) but I can't anymore.

I need to figure it out.

Some days I am great, and others are a downward spiral of chicken wings and cheese dip.

Not together, but now that I think of it that sounds delish….mind out of the gutter in 3…2….1….
I don't eat straight crap all the time, and when I do it's not like I am shoveling it down my hatch, but still.

I need to chill out.

Case and point
à
Reese's peanut butter cookies.
*drool
I made those bad boys last night and they were sooooo good.

Why did I make them?

No freaking reason.

Just because they looked good.

STOP IT!!!
T
hose cookies lying around, looking all good and stuff, are not going to help my cause at all.

So, I am really going to try and make some better choices food-wise, and I am kicking it up a notch and introducing 14 days of hell to my life.

I totally made that up, but it's what I am calling the plan below.

I found it on Pinterest.

I would link it but my work computer won't let me, and my phone might blow up if I try to do it on there. (iPhone 3 probs - don't act like you're not impressed)

According to the pin, you can lose 10 pounds in 2 weeks by doing this routine every day.

The pin could be a complete liar, but I know that if I do this plan for 14 days it will be a good thing, either way.

I have been running on the treadmill this month for my work-outs, which I love to do (I know, punch me in the face), but I know that I need to start adding in some strength training, says EVERYONE these days.

I guess I will listen and see what happens.

Here's to hopefully looking a little leaner in 2 weeks, and for getting a little closer to my ultimate goal (before getting knocked up again…)
14 Days of Hell aka the Drop 10 Workout
60 seconds - Run in place
That right there is what I am going to add to my work out, every day, for 14 days.

Currently, I run for 50-60 minutes (5-6 miles) on the treadmill, 4-5 days a week.

I am weird and like running on the treadmill, so I could keep this up for the winter, but I need to do something to keep my body guessing.

As of now I am going to drop my cardio down to 3 miles-ish along with the routine above.

I think it will be very challenging, but I also think I can tough it out for 14 days.

I should probably track my measurements before and after instead of relying on the scale (since that bizz can be a filthy, lying, pirate hooker), but I probably won't.

I don't have a tape measure (one that can be used for this kind of thing) and I am going to bank on the fact that I will forget to pick one up at the store tonight.

#aintnoshameinmombrain
I am also going to really try and eat healthier not just during the week, but on the weekends too.

I know I am not alone when I say weekends are the hardest.

It's just so fun to have adult beverages and veg out after a long work week!

I will probably still do that, but when it comes to "vegging out" I might actually just eat veggies!!??? I dunno -

I will just take that part of it day by day.
Anyone else feel like today just kept dragging along? BOOF!!!

Let's get this work day over with so I can cuddle buddy boy, do that damn routine above, and try to convince the hubs that I need a back massage ASAP.
J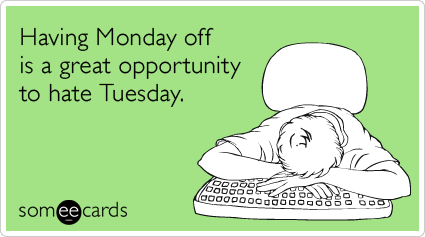 Word