A little Beyonce never hurt anyone…. (see what I did there^^^)
Anyway, I am here to give some updates on life these days as we get closer and closer to baby girl's due date. I am eagerly anticipating the day more and more each day. I am antsy, getting a little uncomfortable and just ready to be done! I want to meet this little girl so bad!!! Too bad I technically have 8 weeks to go because I am 32 weeks as of yesterday! I keep telling myself that if I can get through February, she really could be here anytime in March…which is when I will start driving down all the bumpy roads, eating spicy food at every meal, walking up Rib Mt., and bouncing on the stability ball as we watch our shows at night. :)
In the back of my mind I keep thinking about labor and how awful my first one was with KB…makes me cringe thinking about it. Fingers crossed I can get an epidural and keep it the whole time!!!!!!
We talk about baby sister a lot with Kamden and I think he mostly understands what's going on but there are a few disconnects I have come across with him:
1)
He likes to lift up his shirt and point to his belly while saying "baby sister??"
2)
He patted me on the boob and said "baby kick?"
3)
I asked him what we should name her and his response was "Percy." (From Thomas the Train, of course.) All of the other times I have asked him he responds with some jibberish or completely ignores the question altogether.
4)
He likes to crawl, elbow and drop-kick me in the stomach all the time. This baby girl is going to come out fighting if he doesn't knock it off!
I am really excited for Kamden to be a big brother because I think once she is here he will do great. Makes me sad thinking he won't be the baby anymore and that a lot of my attention will be towards the baby for a while, but at least he is a daddy's boy and he and Bud can do man things together. :)
We got Kamden moved into his new bedroom with his big boy bed last month and he loves it. The transition went really smooth and he seems to love the space in his "new" bed. He's a lucky boy and inherited our spare bedroom bed, which was a queen-size.

We are basically done getting his room set up minus some curtains and maybe something to hang on the wall above his bed. I am all about decorating and every time I am in there I just feel like something is missing above his bed….
This weekend we are painting baby girl's nursery and I am pumped!! I just want to get her room done sooner than later so we don't have to worry about it. We pretty much have everything we need for her room minus a dresser and some decorations. I am going with a mint and coral theme - mint walls and coral and white accents throughout. Thanks to Pinterest my expectations for how this room should look are set really high. I will keep you posted on the final product!
I am still exercising regularly and overall it's still going good. I had to lay off the running though, which I am bummed about. Right after I turned 30 weeks I tried to run some intervals on the treadmill and it was painful. It felt like my hips were going to explode and I am pretty sure baby girl dropped a bit, making it feel like I was going to pee all over the place. Not cool. So, I have resorted to walking at an incline and my Les Mills Pump workouts. Those workouts are still working really well for me and have really helped me not gain 5 million pounds this pregnancy. I haven't weighed myself in a few weeks, but I am thinking I am up 25 or so pounds. I'll take it!
If you haven't been following me on Facebook or Instagram or visited this blog before, you may not know that I am a health and fitness coach. I am telling you this because I am starting my next online challenge group on February 16th. This group will feature both the 21-Day Fix and 21-Day Fix Extreme workout and nutrition programs. If you are looking for short workouts (30 minutes), a fool-proof nutrition plan, portion control containers (no counting calories or points) and ME as your coach, add me as a friend on Facebook at facebook.com/devon.hardel and send me a message! That way we can chat and see if this is a good opportunity for you. Most of my challengers have lost between 5-15 pounds in 21 days with the 21-Day Fix so it's perfect timing with spring sneaking up on us! And if you are looking to really kick things into gear, the 21-Day Fix Extreme would be perfect for you! It was just launched this month and the before and afters I have seen are RIDICULOUS!!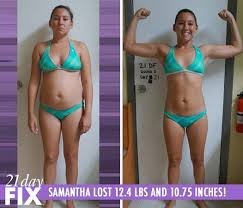 21-Day Fix Before & After
Welp, that's all I have for now. If you have questions about anything you can always email me at
devonladu@gmail.com
too!